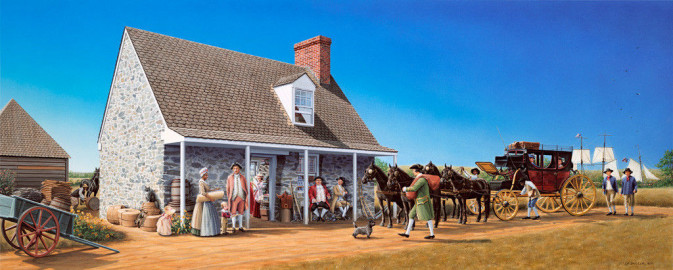 L.H.Barker provides fine hand painted and digital illustration, specializing in interpretive architectural and historical paintings for architects, engineers, non-profits, marketing/advertising firms, museums and exhibit facilities and real estate developers, is a member of the American Society of Architectural Illustrators (ASAI) and has focused on individual client service, high quality and fine craftsmanship since 1974. Award of Excellence, Architecture in Perspective 17 (AIP 17), American Society of Architectural Illustrators. On line portfolio includes a special interpretive historical illustration section.
In 2005-2006, a suite of six illustrations, funded by the National Endowment for the Humanities, was completed for Historic St. Mary's City, MD.
A suite of two hand-painted paintings which were digitally meshed to provide press with a very detailed close up of the house structure, as well as the site personality of Ferry Farm, George Washington's boyhood home. Rush project. The artwork was used for a huge press roll out July 2, 2008 to announce the discovery of George Washington's boyhood home archaeological remains and was seen on national TV evening news, National Geographic Society's website, The Smithsonian Institution, New York Times hard copy and many other venues. They continue to be used for press, marketing & education.
A suite of 26 digitally painted illustrations was completed for the St. John's Site Museum, MD 2007-2009. A total of 34 historical interpretive paintings have been completed for Historic St. Mary's City, MD since 1997.
Recently completed is an interpretive historical suite of three original artworks/paintings for the Maryland State Highway Administration, cultural resources division. The scenes depict events & people in Bladensburg in 1780, 1787 & 1814 (War of 1812).
New interactive architectural & historical illustration portfolio slideshow @ www.lhbarkerstudio.com.
Specialties
3D Digital Illustration
Advertising Illustration
Architectural Illustration
Book Illustration
Color Illustrations
Colored Pencil
Commercial Art
Commissioned Artwork
Concept Art
Corporate Scenic Art
Digital
Digital Architectural Illustrations
Digital Paintings
Drawings
Editorial
Editorial Illustration
Educational Ilustrations
Exhibit Graphics
Graphic Design
Historical Paintings
Hybrid Illustration
Illustrated
Illustration
Interactive Illustration
Interpretive Illustration
Marketing
Museum Exhibit
Painter
Pencil
Photo-realistic Illustration
Photography
Photoshop
PowerPoint Presentations
Real Estate Graphics
Realistic Art
Renderings And Perspectives
Site Plans
Technical Illustration
Watercolor