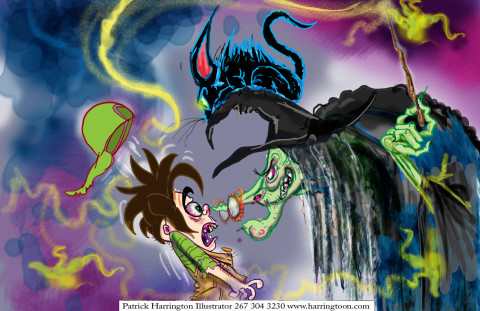 I am an award winning Philadelphia area caricaturist, illustrator and graphic artist and would like to work with your company.
I am an award winning member of the NCN.
National Caricaturist Network-
2004 Award for Retail/Party style.
I have 20+ years graphic artist experience in corporate environment. Photoshop, Illustrator, Flash, InDesign, etc.
I served as political & editorial cartoonist for the Irish American and Filmore Herald newspapers, my digital work of Marilyn Monroe is published in a compilation book called "Marilyn in Art" by Chaucer Press 2006.
I offer many different styles of cartoon/ caricature illustration, including digital, vector and clay sculpture.
Some of my political cartoons appeared in the "The Irish American" and "The Filmore Herald" newspapers.
More can be found at
Please visit my site and blog for more various samples.
I guarantee all my work.
I would love to discuss the specifics of your project.
Thank you and I look forward to working with you.
I am a Cartoonist, Caricaturist and animator specializing in live party entertainment for corporate and special events. I offer various services to suit clients budgets and needs.
From traditional to ipad and digital and Animated! For a real WOW factor!
Explained here:
www.youtube.com/watch?v=3s13ysNHWeI
Please check out my sites below for more samples of my work. Thank you!
Patrick Harrington
www.harringtoon.com
www.harringtoons.com
http://harringtoon.blogspot.com
www.caricamation.com
Specialties
& Caricature.Photo Editing Faces.
Ad Specialties
Adobe Illustrator Expert
Advertising
Advertising Illustration
Animals
Animation
Art And Graphic Design
Book Covers
Book Illustration
Branding
Brochure
Caricature
Caricatures
Cartoon
Cartooning
Cartoons
CD Cover Design
Character Design
Character Development
Children Book Illustration Short Stories
Children's Book Illustration
Children's Illustration
Children's Picture Books
Color Illustrations
Comic Art
Commercial Art
Commissioned Artwork
Concept Art
Corporate Branding
Digital
Drawings
Editorial
Editorial Illustration
Educational Ilustrations
Exhibit Graphics
Fantasy
Fantasy And Gaming Art Work
Fantasy Art
Flash Animation
Flyers
Humor
Humorous Illustration
Icon Design
Illustrated
Illustration
Invitations
Kids Art
Line Art
Live Digital Caricatures
Live Digital Caricatures Animated
Logo Design
Maps
Marketing
Mascot And Character Design
Mobile Apps
Packaging
Pen And Ink
Pencil
People
Pet Portraits
Photoshop & InDesign
Posters
Profiles
Sequential Art (Comics)
Stationary
Storyboard Illustration And Comps
Storyboards
T-shirt Design
Vector Illustration
Watercolor